At GLOW™ we have several options, that offer you both CONTROL and COMFORT.
We understand that every person and every situation is different, and that's why we offer you a choice of how you control, your heating system.
Maybe you'll like our MANUAL and easy-to-use, "up and down" digital arrows.
Perhaps you'd prefer a fully programmable radiator THERMOSTAT… well, both of these options, come as standard on all our electric radiators.
Becoming more popular, is the simple-to-use WiFi option, where you can control your radiators using an app, from anywhere in the world.
Finally, if you want complete autonomy, our smart electric heaters can be controlled using your voice, via Alexa and our app.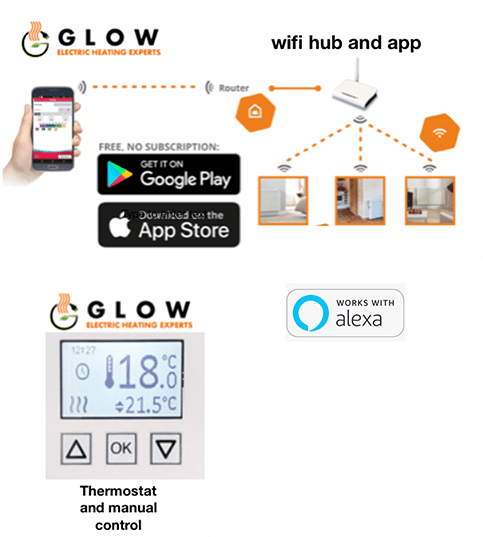 We pride our ourselves on being local, and always on hand to help with any questions you may have. We are part of a UK network and so there's always someone around you, should you require any assistance.
You will deal with us from the initial survey through to the installation. We're friendly, and excellent customer service is key to our success and very important to us, plus of course, we are a WHICH? Trusted Trader too, offering you peace of mind.
FREEPHONE 0800 193 4320
What To Expect When We Install Your Electric Heating
Our GLOW™ engineers will as required:
We're happy to discuss on anything to do with electrics, gas or water, so just call us on our FREEPHONE number 0800 193 4320 and we'll help you.